Vintage car and machinery museum
There are more than 50 different machinery items in the machine hangar. These display items used to serve the national economy years ago. Some of them are made in Latvia. From the displayed fire-engines one is a very rare intercommunication and illumination motor vehicle (mobile fire headquarters) built at the beginning of the 1950s (in 1953). It has got its chassis from ZIS-150 vehicle. There are also a fire-escape built on Mercedes-Benz L6500 chassis (from 1938) and a custom-built fire-engine on Packard 1-8136 chassis in the middle of the 20s of the 20th century. These are the only objects to inspect in Latvia and also there are very few this kind of machinery in the world – less than ten have been maintained.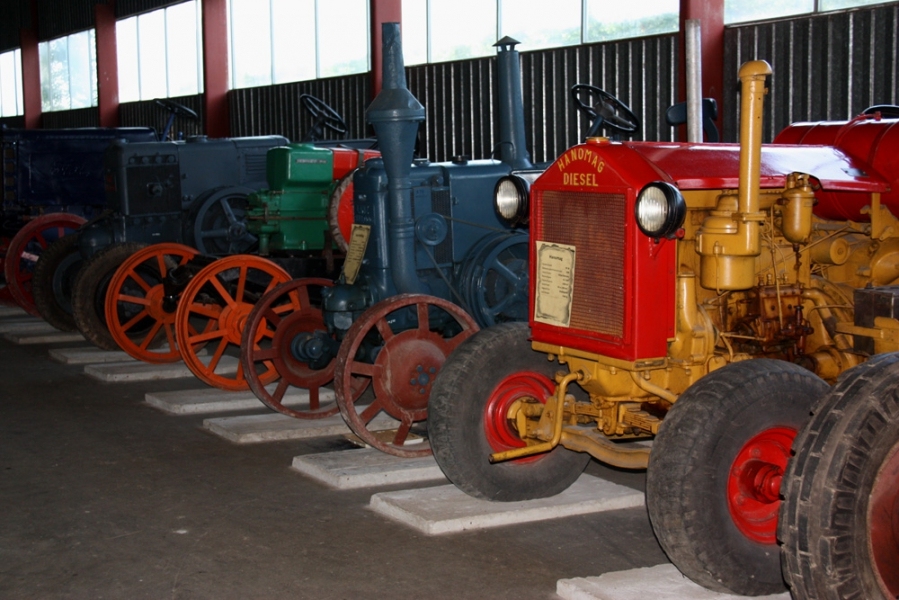 The collection of the trucks is to be seen as a big within the territory of Latvia. There are seven exibits on display.The oldest (dates back to 1916) and also the rarest is ALBION A 10 vehicle. Possibly the only exhibit on display in the world. In the beginning of the 1920s it used to be one of the most popular makes in the Latvian Army. It was a really big truck for the end of the 19th century and the beginning of the 20th century with a traditional construction. Control lever is situated outside the cab and the rear tyres are driven by chains. Also there is a vehicle on display which used to be popular in Latvia FORD TT and American STUDEBAKER US-6 that is relevant to the Second World War. The model of MERCEDES-BENZ L4500A dates back to the same period in history – at the time the biggest truck with a very modern construction that was still seen as an up-to-date in the 1970s. The vehicle has undergone a perfect reconstruction and at the moment appears in a view and completion identical to the time of the Second World War when it was used by the German air forces (luftwaffe). The AA gun FLAK-38 which used to be widely operated gun in the German Army is placed in the space reserved for the load of the vehicle.
Our museum offers the biggest exhibition of the agricultural tractors in the Baltics. There are more than 15 of them. Visitors will find both Fordson, DT-20 and MTZ-5 that used to be popular in Latvia and tractors of rare occurrence in 1930s - Case and John-Deer. A few tractors were built in Riga in the 1920s. One of them is on display in the museum.